Blue Bell recalls chocolate chip cookie dough ice cream
www.consumeraffairs.com/recalls/blue-bell-recalls-chocolate-chip-cookie-dough-ice-cream-092216.html
By James Limbach A Washington, D.C., reporter for more than 30 years, Jim Limbach covers the federal agencies for ConsumerAffairs. Previously, he was a reporter and news anchor for Associated Press Broadcast Services, where he covered business and consumer news as well as space shots and other major spot news events. Read Full Bio→ Email James Limbach Phone: 866-773-0221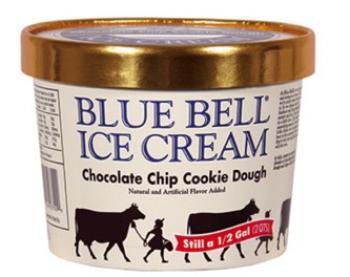 Blue Bell Ice Cream is recalling select products produced in its Sylacauga, Alabama plant because they were made with a chocolate chip cookie dough ingredient, supplied by a third party supplier Aspen Hills, Inc., that may potentially contain Listeria monocytogenes.
The recall comes more than a year after Blue Bell products were linked to 10 Listeria cases in four states, including three deaths in Kansas.
Consumers should not eat the recalled products and are encouraged to return them to the place of purchase for a full refund.
(FOR ALL PRODUCTS NAMED IN THIS RECALL ARTICLE CLICK ON LINK) www.consumeraffairs.com/recalls/blue-bell-recalls-chocolate-chip-cookie-dough-ice-cream-092216.html
Listeria monocytogenes can cause serious and sometimes fatal infections in young children, frail or elderly people, and others with weakened immune systems. Although healthy individuals may suffer only short-term symptoms such as high fever, severe headache, stiffness, nausea, abdominal pain, and diarrhea. Listeria infection can cause miscarriages and stillbirths among pregnant women.
The products can be identified by the code date found on the bottom of the carton.  The products produced with the chocolate chip cookie dough pieces were distributed in the following ten states: Alabama, Florida, Georgia, Kentucky, Louisiana, Mississippi, North Carolina, South Carolina, Tennessee, and Virginia.
No illnesses have been reported to date, the company said.
For more information, consumers with questions may call 979-836-7977, Monday – Friday 8 a.m. – 5 p.m. CST.